Washable Wool Products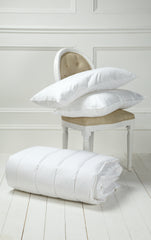 A great alternative to ordinary wool duvets, toppers, mattress protectors and pillows. Luna Textiles have developed a fully machine washable British Wool collection.
We have taken the finest pure white British Wool and used a specialist treatment that prevents the shrinkage of the wool when washed. Tested for over 50 wash cycles with no detriment to the bedding.
No longer do you need to dry clean, simply wash as normal.
Pillows last longer with minimal care compared to ordinary wool.
Full details of treatments used are available and have been cleared to Oekotex Standards.